(Rating-4.5/5)
The Y, the name itself, points to the mystery of the film. The film moves forward in harmony with both heart and mind. A character that creates curiosity  in the human mind. Imaginations live. Something is hidden. Something is hidden. Is there such a power? every moment. Every element that lives around us is invisible.
It makes its existence. If I want to tell by speaking, it is impossible. where each character has lived himself, which is making us think. Can a fantasy take the  shape of reality? If yes, then why is man still unaware of it? And if he knows, why is he unable to keep himself safe? Do supernatural powers exist while humans  are alive?
Well written story, screenplay and direction by Girideva Raaj. Here The content is the hero, the character is the Grand Clock, and the storyteller has woven the fabric of the story in such a way that it is difficult to say anything. It is an unsolved puzzle. There is an untold story. The running time is approximately  2 hours. And the movie holds your attention for the whole two hours. You can't take your eyes off the screen even if you want to!
Cinematography by Karthik Mallur sets the best mood for the genre. Background music by Christopher is too apt for the film.
'The Y' is the second most anticipated movies in India listed in IMDb Top 10 list after Pathaan being the first. Varisu, Thunivu, Gandhi Godse takes  third, fourth and fifth position respectively. To get listed in Top 10 most anticipated list 200 million people should search for the movie title in IMDB website.
Even before movies coming on screen Popularity, Posters, Trailers gains the attention of the people. Pathan being the high budgeted movie with top starcast  it's highly difficult to compete, but a low budget movie with non star cast is gaining attention of millions of people is a great achievement. It's clearly says content is the king seeing the progress of The Y on IMDb day by day. The Y is getting screened all over India on 6th January with nearly 200+ Multiplex Screens.
Madhu GM Gowda and Dr. Ajith produced the film in a perfect budget and rightly invested on the content.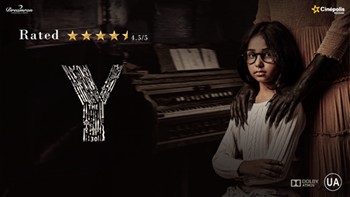 A Masterclass In Crafting Psychological Horror.  I Challenge You Cannot Guess The Climax Of THE Y